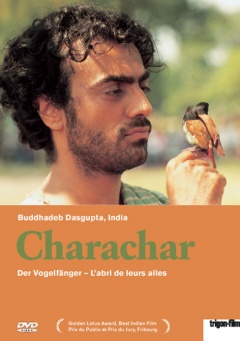 DVD
Charachar
Buddhadeb Dasgupta – India – 1992
bengali, german and french
CHF 12.90 / EUR 11.90
Order
Lakha comes from a family of bird catchers, but questions the value of catching birds. He, and the older Bhushan, sell their caged birds to the local dealer. Lakha's wife, Sari, complains that he is not ambitious enough because he cares more for the birds than for her, and she starts meeting Natobar. Kalicharan, a city dealer, suggests they sell their birds directly to him. So Bhushan and Lakha take their next catch of birds on the train to Calcutta. Kalicharan invites them to a feast for the ceremony of the birds, with disastrous consequences.

trigon-film dvd-edition 89
Video DVD (in video quality)
Language OV bengali Fix subtitles deutsch, français
Length 86 min. Screen 1:1.66 - 16/9 PAL, color Audio DD FSK 12 Region code All regions

For your information: The quality standards of this DVD complies with the old VHS video format only. Unfortunately, no digitally restored basismaterial of this wonderful film is available. Although the image quality does not comply with the standards of our DVD edition, we still have decided to make it available.