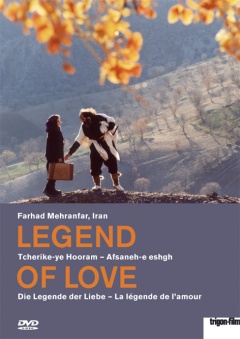 DVD
The Legend of Love -Tcherike-ye Hooram
Farhad Mehranfar – Iran – 2001
Farsi/german/french
CHF 12.90 / EUR 11.90
Order
Set among the high cliffs of western Iran in the heart of Kurdistan, The Legend of Love tells the story of Khazar, a female doctor who sets out on a journey searching for Hooram, the man she loves. Once a medical student, Hooram has quit school to work at a clinic for the victims of the Iran-Iraq war. Khazar carries with her a tape recording he made explaining his departure. When she plays it, he appears in front of her. The journey takes her through magical rituals and myths of Kurdish culture, among them the Kurdish «legend of love» which gives the film its title. The result is a remarkably rich portrait of Kurdish history and culture set in spectacular landscapes. Above all it confronts the problem of Kurdish isolation and marginalization.

trigon-film dvd-edition 86
Video DVD (video quality)
Language OV farsi Fix subtitles deutsch, français
Length 88 min. Screen 1:1.66 - 16/9 PAL, color Sound DD FSK 16+ Region code All regions

For your information: The quality standards of this DVD complies with the old VHS video format only. Unfortunately, no digitally restored basismaterial of this wonderful film is available. Although the image quality does not comply with the standards of our DVD edition, we still have decided to make it available.