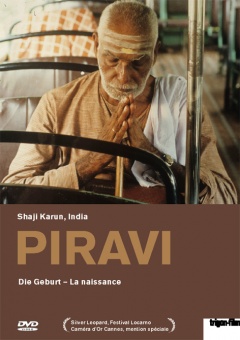 DVD
Piravi - The Birth
Shaji N. Karun – India – 1988
malayalam, german, french
CHF 12.90 / EUR 11.90
Order
Raghu, the only son of Raghava Chakyar was born late for him. So he poured his entire love and affection on him. Raghu, studying in an engineering college in a far away city has to arrive at his home to attend the engagement ceremony of his only sister. But he doesn't. The father starts his endless wait for his son. He daily waits at the bus stop till the last bus from the town also returns. Raghava Chakyar comes to know from newspapers that Raghu was taken into custody by the Police for political reasons. He reaches the capital and meets the higher Police officials. But they pretended helpless as there is no proof that Raghu was taken into custody. Raghu's sister comes to understand that he probably would have died in police custody after being tortured, but cannot bear to tell this to her father. The old man's grip on reality slowly slips and he starts dreaming that his son is with him.

trigon-film dvd-edition 117
Video DVD (video quality)
Language OV malayalam Fix subtitles deutsch, français
Length 110 min. Screen 1:1.38 - 4/3 PAL, color Sound DD 2.0 FSK 14+ Region code All regions

For your information: The quality standards of this DVD complies with the old VHS video format only. Unfortunately, no digitally restored basismaterial of this wonderful film is available. Although the image quality does not comply with the standards of our DVD edition, we still have decided to make it available.