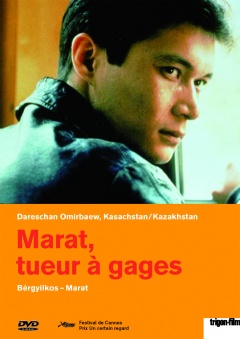 DVD
Marat, tueur à gages - Bérgyilkos
Dareschan Omirbaew – Kazakhstan – 1999
OV/german/french
CHF 12.90 / EUR 11.90
Order
Marat, a driver in Almaty, runs into the Mercedes of a local nouveau riche and his simple life turns into a frightening nightmare.

trigon-film dvd-edition 186
Video DVD (video quality)
Language OV kazakh Fix subtitles deutsch, français
Length 77 min. Screen 4/3 PAL, color Sound DD 2.0 FSK 14+ Region code All regions

For your information: The quality standards of this DVD complies with the old VHS video format only. Unfortunately, no digitally restored basismaterial of this wonderful film is available. Although the image quality does not comply with the standards of our DVD edition, we still have decided to make it available.