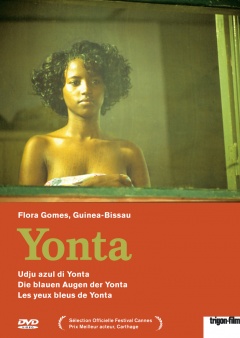 DVD
The Blue Eyes of Yonta - Udju azul di Yonta
Flora Gomes – Guinea-Bissau – 1992
OV/german/french
CHF 12.90 / EUR 11.90
Order
Yonta is a beautiful young woman growing up in the city of Bissau a generation after her nation has gained independence. She develops a secret crush on Vicente, a good friend of her family and a hero of their country's struggle, beginning a story of unrequited love in the developing city. Meanwhile, Yonta herself has a secret admirer, a shy young man names ZÈ, who sends her love letters copied from a Scandinavian book. It is from one such letter that the film gets its title. A lovely, delicate work about youthful illusions, both personal and national, that powerfully demonstrates director Flora Gomes's marvelous talent for elicting wonderfully nuanced performances. Only the second film from Guinea Bissau and Gomes, The Blue Eyes of Yonta shows us how alike we all are when it comes to matters of the heart

trigon-film dvd-edition 87
Video DVD (video quality)
Language OV portuguese-criolo Fix subtitles deutsch, français
Length 94 min. Screen format 1:1.66 - 4/3 PAL, color Sound DD FSK 12+ Region code All regions

For your information: The quality standards of this DVD complies with the old VHS video format only. Unfortunately, no digitally restored basismaterial of this wonderful film is available. Although the image quality does not comply with the standards of our DVD edition, we still have decided to make it available.