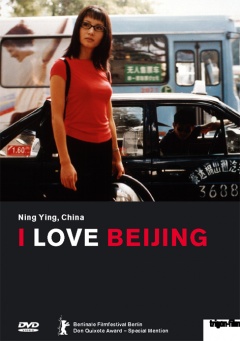 DVD
I Love Beijing - Xiari Nuanyangyang
Ying Ning – China – 2001
Mandarin/german/french
CHF 12.90 / EUR 11.90
Order
Filmmaker Ning Ying returns to her favorite theme - the gradual decay of traditional Chinese values and culture at the dawn of the 21st century - in this low-key drama. Dezi is a cab driver who has recently broken up with his wife. Lonely, Dezi is searching for a new love, and as he drifts through Beijing in search of fares and a girlfriend, he sees a city that is increasingly bending to the influence of the West, with traditional pastimes and customs forced to make way for the onslaught of the free-market economy.

trigon-film dvd-edition 116
Video DVD (video quality)
Language OV mandarin Fix subtitles deutsch, français
Length 86 min. Screen 1:1.78 - /3 LB PAL, color Sound DD 2.0 FSK 14+ Region code All regions

For your information: The quality standards of this DVD complies with the old VHS video format only. Unfortunately, no digitally restored basismaterial of this wonderful film is available. Although the image quality does not comply with the standards of our DVD edition, we still have decided to make it available.