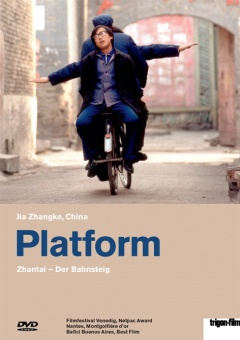 DVD
Platform - Zhantai
Zhangke Jia – China – 2000
Mandarin,/german/french
CHF 12.90 / EUR 11.90
Order
In 1979, in a China undergoing rapid changes, it is still forbidden to listen to pop music. Platform is a record young people listen to in secret. Minliang and his friends, an official theatre company, present a play in praise of Mao Zedong. With the 1980s, the theatrical troupe's life changes: pop music, permed hair, cigarettes… This feature film follows the artistic and emotional tribulations of the young artistes over a ten-year period against a backdrop of revolutionary disappointment, a bygone past and privatisation

trigon-film dvd-edition 133
Video DVD (video quality)
Language OV mandarin Fix subtitles deutsch, français
Length 155 min. Screen 1:1.75 - 16/9 PAL, color Sound DD FSK 16+ Region code All regions

For your information: The quality standards of this DVD complies with the old VHS video format only. Unfortunately, no digitally restored basismaterial of this wonderful film is available. Although the image quality does not comply with the standards of our DVD edition, we still have decided to make it available.