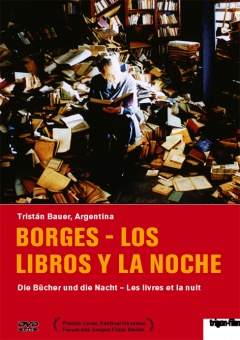 DVD
Borges - Los libros y la noche
Tristan Bauer – Argentina – 2000
Spanish/german/french
CHF 12.90 / EUR 11.90
Order
The film passes from a documentary approach to a fictional treatment, providing an insight into the life and work of one of the greatest writers of the Spanish language: Jorge Luis Borges. The film's texture is a juxtaposition of archive documents and the fascinating labyrinthine world of libraries and books. Walter Santa Ana incarnates the character created by the Argentinean writer, which is no other than Borges himself.

To celebrate the one hundred years of Jose Luis Borges'birth, Tristán Bauer has achieved a documentary film in which archive documents, interviews and photos recall the most significant moments in the writer's life, from his political position and disappointments with the Perón regime, to his international success. Tristán Bauer does not limit his work to an historical approach, but creates a subtle and sober reconstruction of the writer's world: the infinite wells of the strange Library of Babel, multiple corridors, circles, mirrors, staircases and hexagons. In his encounter with Borges' world and fiction, he succeeds in evoking the atmosphere of his poetry and tales, his literary and metaphysical obsessions.

trigon-film dvd-edition 119
Video DVD (video-quality)
Language OV spanish Fix subtitles deutsch, français
Length 82 min. Screen 1:1.66 - 4/3 LB PAL, color Sound DD 2.0 FSK 14 Region code All regions

For your information: The quality standards of this DVD complies with the old VHS video format only. Unfortunately, no digitally restored basismaterial of this wonderful film is available. Although the image quality does not comply with the standards of our DVD edition, we still have decided to make it available.